Applications of Vacuum Pumps and Blowers
Comprehensive Coverage of Every Work Environment
Proposal for Vacuum Pumps and Blowers that are Easy on Workers
[VAC] = Vacuum pump [BLO] = Blower pump [COMB] = Combination pump
Printing, Bookbinding, Bag Manufacture Factories: [VAC][BLO][COMB]
Vacuum pumps are used in vacuum transport and blowing (delivery) of paper. Automatic, optimized pump speed based on bookbinding equipment operation, leaf and signature count, etc., eliminates wasted electricity. Vacuum pump heat output is also low and lower noise levels reduce operator stress.
Vacuum Molding Machines [VAC]
Vacuum from a vacuum pump can be used for molding by draining the air between the sheet and mold, and pressure bonding the mold. Improves the working environment by reducing electricity consumption, preventing oil-smoke and lowering noise levels. There is a 1-by-1 system operating method that integrates vacuum sources for multiple molding machines.
Vacuum Holding for Machining Equipment [VAC]
A vacuum pump is use to generate the vacuum that holds a workpiece to the mounting surface (chuck). Reduces electricity consumption and improves the work environment.
Particulate Transport [VAC][BLO]
Vacuum pumps and blowers are used for particulate transport applications.(Food, plastics, chemical, pharmaceuticals)
Electronic Component Factory [VAC]
Vacuum pumps are used to vacuum-transport components to be mounted onto PCBs (integration). In addition to effective power savings provided by the inverter plus multi-unit control, workplace air conditioning loads are also reduced.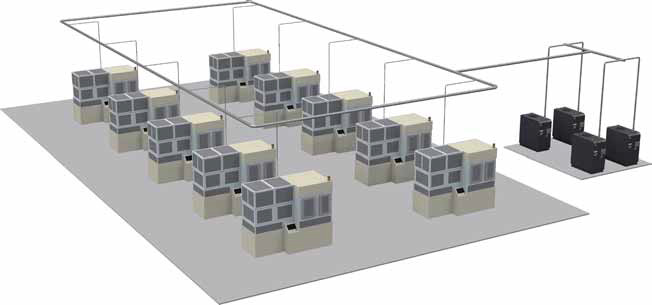 Vacuum Holding and Transport [VAC]
1. Preform Inspection (Vacuum Holding)
A vacuum pump is used for the vacuum chuck to hold preforms (test-tube-shaped blanks used to form PET bottles) for testing
2. Shrink Labeler (Label Conveyor)
Vacuum pumps are used to supply the vacuum source used to attach labels to PET bottles.
3. Container and Cup Surface Printing (Vacuum Holding)
Vacuum pumps are used to supply the vacuum source used for surface-printing to containers and cups.
Air Knife [BLO]
Blowers are used to blow off dust or blow-dry water from work pieces.