Company Profile
| | |
| --- | --- |
| Company Name | ORION Machinery Co., LTD. |
| Founded | November 3, 1946 |
| Representative Director and President | Tetsuro Ohta |
| Head Office | 〒382-8502 246 Kōtaka, Suzaka-shi, Nagano-ken |
| Head Office Tel. | 026-245-1230 (Main Switchboard) |
| Net Sales | ¥53.2 billion ※ As of March 2020 |
| Capital | ¥100 million |
| Employees | 2,301 (consolidated) ※ As of March 2020 |
| Group Companies | 27 Companies (Including foreign companies) |
| Primary Banks | Hachijuni Bank, Shoko Chukin Bank, Mizuho Bank, Sumitomo Mitsui Bank, Norinchukin Bank, Naganokenshinren |
Main Products
Precision Air Processors
With the key phrase being "Covering everything from whole-area air conditioning to localized air processing", ORION offers new technology unmatched in the world: the PAP Precision Air Processor Series with Heat Pump Balance Control.
Vacuum Pumps
The history of the ORION dry pump started in Japan with the oil-free rotary vane vacuum pump. Thanks to its reduced noise and longer life, the dry pump has been indispensable in automation and labor-saving applications, playing an active and wide-ranging role for every kind of industry. In recent years, we were the first in the industry to release the inverter controlled oil-free vacuum pump.
Chillers & Dehumidifiers
Devices to heat or cool target heat sources through the circulation of fixed-temperature controlled water. A chiller and water supply equipment (water tank or pump) combined into a single unit in order to meet the needs of every application. Dehumidifiers are active in various industries from food-related businesses to service industries.
Compressed Air Related Equipment
For a supply of clean air that meets your needs that is also energy-saving, and oil and water separation treatment of compressed-air drain. Drain processing is good for the environment and also eliminates water-related trouble in pneumatic equipment.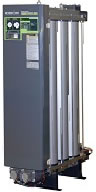 Temperature Test Chambers
Meets wide-ranged needs from small-lot production of many products to mass production based on high precision temperature and humidity control used in cutting edge fields such as semiconductors, LCD, crystal industries, as well as the necessity of reliable technology and quality, even for components that must correctly function under extreme operating temperatures.
Jet Heaters
From concrete curing at construction sites to heating of factories or school gyms and auditoriums, etc. This Eco Heater is used in a wide range of applications, offers noise-reducing combustion technology, and is environmentally friendly due to its ability to provide heat with low fuel requirements.
Precision Temperature Regulators
Achieves high precision and speedy temperature control of liquids or air. While obviously used in semiconductor and FPD production processes and testing apparatuses, it also meets needs in every kind of high-precision temperature control need such as those found in scientific and analysis equipment, etc.
Dairy Equipment
In addition to our automation systems being compatible with every type of dairy farming management system used in Japan, with our "before-and-after" installation support, we also strive to help dairy farmers achieve a high-profit diary farming business that offers high efficiency, low manual labor and high quality milk production.
Office
Office Locations in Japan
Chitose Factory, Chitose Training Center
1051-16 Kamiosatsu, Chitose City, Hokkaido,
066-0077
Kōshoku Factory
1291 Ōoaza Yashiro, Chikuma City, Nagano Pref.
387-0007
Tochigi Factory
2989-10 Miygawajōnai-machi, Tochigi City, Tochigi Pref.
328-0067
Technical Research Institute
1-25-20 Wakasato, Nagano City, Nagano Pref.
380-0928
International Offices
| | |
| --- | --- |
| Orion Machinery (Shanghai) Co., Ltd. | Songjiang District, Shanghai, China |
| Dongguan Orion Machinery Co., Ltd. | Liaobu, Dongguan, Guangdong Prov., China |
| Shanghai Orion Chemical Co., Ltd. | Jiading District, Shanghai, China |
| Shanghai I-Orion Machinery Co., Ltd. | Jiading District, Shanghai, China |
| Taiwan Orion Industry Co., Ltd. | Taichung City, Longjing District, Taiwan |
| Hong Kong Orion Machinery (Hong Kong) Co., Ltd. | Mong Kok, Kowloon, Hong Kong |
| Korea, Orion Korea Co., Ltd. | Seoul, Korea |
| Thailand Orion Machinery Asia Co., Ltd. | Rojana Industrial Park, Ayutthaya Prov., Thailand |
| India GEM Orion Machinery (P) Ltd. | India Coimbatore, Tamil Nadu, India |
Head Office and Factory Access Map
Head Office and Factory
Panoramic View of Head Office and Factory